High Capacity Flow Bypass
There's not really a way to turn the taps off on a river, and when our customers need to find a way to isolate a whole section of channel to remove a weir, install a cable or pipe crossing or form a bridge invert, we have to find a way to move the water around and through the work site in a safe, efficient manner which minimises the environmental impact. We call these high capacity flow bypass solutions; we're moving water at flow rate above what you could shift with a couple of 8" diesel pumps.
Over pumping is often a contractors first response to this challenge, and we've delivered countless schemes, including full river re-alignments, where this has provided a quick and easy solution. Mechanical pumps have limited capacity however and require constant fuelling and are at risk of breakdown which can very quickly lead to flooding upstream or a drying out of the downstream channel. Pumps also prevent fish passage through the worksite, so typically can only be used at certain times of year for a limited duration.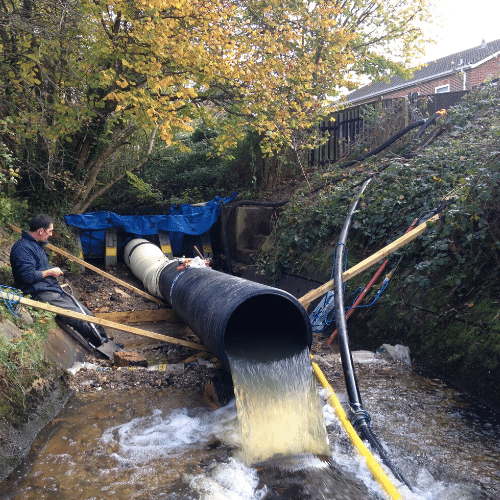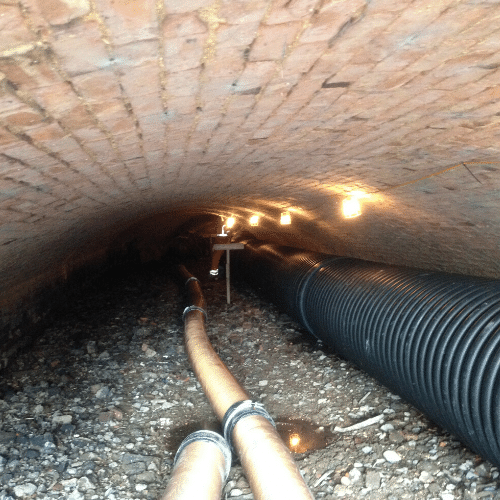 To manage this challenge, we have developed and delivered range of high capacity flow bypass solutions. Some of these are as simple as pipes connecting upstream and downstream dams, referred to as flumes, which we supply in both rigid and flexible sections to suit flow and site conditions. Other solutions are more complex and are often required for very high capacity flows such as open flumes designed to bridge over excavations, cross weirs and stilling basins or siphon systems allowing us to move the diversion up onto a riverbank before discharge.
The challenges these projects create are numerous, changing the flow regime of a watercourse will require consent from regulators, such as the Environment Agency, who want to eliminate the risk of flooding or environmental degradation. Contractors want to minimise risk to staff and disruption to their works, allowing them to deliver permanent works to a high standard. We work with all parties, analysing flow behaviour alongside survey data to design and install systems that work for the habitat and successful delivery of your project.
Applications Of High Capacity Bypass
Water depths 0.45m to 3.0m
Over 1 kilometre held in stock
Emergency response available 24hrs a day
7 height variants available
Why choose us?
Watergate dams may be one of the easiest to install, but the team at Robert Nicolas Ltd still believe in the importance of proactive risk management. Our skilled engineers will attend each and every site themselves, planning, deploying and monitoring temporary dam solutions to prevent any issues and ensure reliability.
Our experienced team have been trusted by clients for decades thanks to our dedication to delivering excellence, safely and quickly. We're well-versed in the art of applying dam technology to real-world environments with real-world challenges, so you can feel confident that your team and your site are protected from any nearby watercourses for the duration of your project.