Don't let a watercourse rain on your parade. Trust our Geodesign Barriers to keep you above the shoreline and get your project delivered on time.
Introducing the Geodesign Barrier
Our self-anchoring Swedish Geodesign Barrier is the system of choice for delivering works underwater. Building on the barrier's 25-year history of protecting communities from flooding, we've adapted this proven technology to create a portable frame dam that can take the risk out of temporary works. The Geodesign Barrier is a simple but effective portable dam solution which uses the weight of the water to create a water-tight seal. Available in a range of interlinking sizes the Geodesign Barrier can easily be set out to almost any shape, allowing simple adaption to your site requirements.
And it's not just the reliable and robust nature of the Geodesign Barrier that makes it so appealing. We continuously develop and improve the barrier, investing in engineering and design which ensures that the barrier, when expertly installed by our highly trained team, can act as a temporary dam on virtually any surface – and in any configuration – without compromising safety.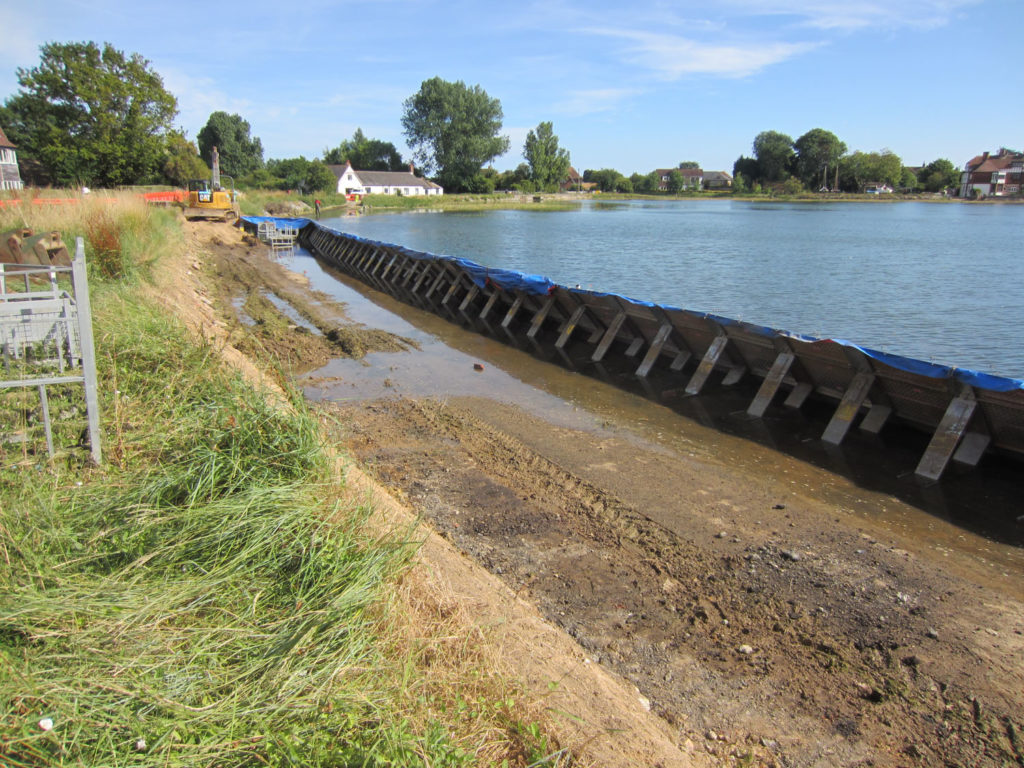 Our Geodesign Barrier
We can deliver and install a range of geodesign barrier sizes with the capability of holding back water of up to 3.00m deep, even on an uneven surface. The Geodesign Barriers solid steel supports and sub-frame provide added protection, so your engineers can feel confident working in and around watercourses regardless of any change in conditions.
Water depths 0.45m to 3.0m
Over 1 kilometre held in stock
Emergency response available 24hrs a day
7 height variants available
Why Choose Us?
The growing team at Robert Nicholas Ltd are all highly skilled and experienced civil engineers and contractors. We're at the forefront of design and innovation, with firsthand knowledge of the strengths and pitfalls of other products and methods available. It is this knowledge that has inspired us to adapt Geodesign Barriers into the durable and secure temporary works solution our customers now rely on.
We take the trust placed in our team very seriously. With the help of empirical testing both in the field and simulation, our experts use their knowledge and experience to carefully control the environment around them, mitigating risks and working closely with our customers to achieve a shared objective with speed and efficiency.
Contact Us Today About Your Next Project